| Santa Fe New Mexican
Teya Vitu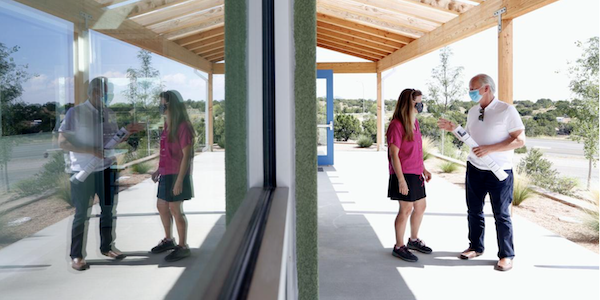 Beth Clayton, head of school at Journey Montessori School, gives Bruce Geiss, chief operating officer of Realty Gift Fund, a tour of the school Thursday.
Luis Sánchez Saturno/The New Mexican
Realty Gift Fund creates cash for nonprofits from donated property
An article from Santa Fe New Mexican Teya Vitu
Original Article Link »
National Public Radio affiliates nationwide frequently air pitches for people to donate unwanted cars for radio stations to sell as part of their fundraising campaigns.
Santa Fe-based Realty Gift Fund — as its name clearly trumpets — believes donors and nonprofits should also give property donations a look.
In its three years, Realty Gift Fund has converted 12 donations of five homes, a shopping center, a resort, restaurants and office buildings into $2.5 million in donations to 24 nonprofits, Chief Operating Officer Bruce Geiss said.
But real estate accounts for just 2 percent of donations to nonprofits nationwide, he said.
"They are rejected by nonprofits because they are too complicated," Geiss said. "They have been completely resistant to real estate gifts because there are title risks, and every gift of real estate requires money from the nonprofit. We make it easy and we make it safe."
Local real estate pros Geiss and Jay Grab along with Chase Magnuson in Houston saw opportunity as the intermediary between property owners and nonprofits.
"The property is gifted to us," Geiss explained. "We become the owner. We sell it. We grant the money to nonprofits chosen by the donors."
So far none of the property donations were in New Mexico, and only the shopping center sale benefited Santa Fe nonprofits.
"We want the donor community and the nonprofit community and the financial adviser community in Santa Fe to wake up and ask for gifts of real estate," Geiss said.
Kris Axtell, CEO of Luna Capital Advisors, is enthusiastic about Realty Gift Fund but understands why property donations to nonprofits have not exactly caught on.
"The challenge is the seller needs to benefit from a tax write-off," said Axtell, who is also managing partner of the group that acquired much of the Market Station building at the Railyard. "A lot of property owners don't have significant tax liabilities. How do you benefit the seller?"
Axtell was instrumental in lining up an investor willing to forward $600,000 to Realty Gift Fund to pay off a loan on a shopping center in the Chicago suburb of Shorewood, Ill., that the New York owner was donating to the nonprofit world. Upon Realty Gift Fund selling the shopping center, Axtell's friend was reimbursed.
Five Santa Fe nonprofits were among the 18 beneficiaries of the shopping center sale, with $50,000 spilt among St. Elizabeth Shelters, Presbyterian Medical Services, The Food Depot, Journey Montessori School and the Girl Scouts. Axtell selected Journey Montessori as a beneficiary.
Head of School Beth Clayton opened her Journey Montessori School in late February just north of N.M. 599. A few years ago, she was still figuring out how to pull off the project financially.
"I got a check in the mail," she recalled. "I had no idea what it was. It was a total surprise."
A follow-up letter from Realty Gift Fund arrived a couple of days later explaining the $15,000 check.
"We were still in the stages of if we are even able to do it," Clayton said. "The check really started the whole process. I told them: 'You were our kickoff.' It gave me the push I needed."
The 3,000-square-foot, two-room schoolhouse ultimately cost about $1 million.
The Chicago shopping center netted $530,000 for nonprofits, the second most for a Realty Gift Fund deal behind the $630,000 donated from a resort sale in Schroeder, Minn., Geiss said.
The shopping center illustrates why nonprofits shy away from real estate donations. Geiss said it was 70 percent vacant, and Realty Gift Fund put in $75,000 in improvements to attract tenants and pay off the loan. The New York owner was willing to give away the center if the loan was passed along, too.
"Why do I own this property?" Geiss recalls the owner saying. The owner also had no nonprofits in mind, so he let Realty Gift Fund choose the nonprofits.
Realty Gift Fund brought in a local Chicago broker, who found a tenant to commit to much of the vacant space and then found a California buyer.
Reality Gift Fund's deals have involved million-dollar, $500,000 and $360,000 homes but also the 950-square-foot, $70,000 ski cabin of a woman who gave small donations to a Denver hospital every year. The ski cabin through Realty Gift Fund netted the hospital $45,000, Geiss said.
"We say we will consider a property of any type, anywhere," Geiss said. "But we will say no. We say no 30 percent of the time."